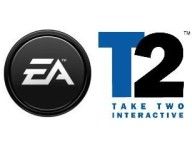 Recently there were some signs from the Take Two side that suggested they were preparing to be bought out. Today EA reiterated their public offer for the company this time speaking directly to the Take Two shareholders.
EA has restated their $26 per share offer and has pleaded directly with the shareholders to accept the deal. The $26 per share was nearly 50% above Take Two's value before the developments were made public. The stock jumped following the news and now sits just under $26 as investors have prepared for the deal to be completed in the near future.
The offer expires on April 11th. In what surely isn't a coincidence, the Take Two shareholder meeting takes place on the 10th. If EA doesn't hold 51% of the company by then that could very well be when a new board is voted in (who aren't trying to sneak in huge raises for themselves) that will accept the EA offer with only hours to spare. Either way things are in motion and it appears it won't be long now until EA officially has control of Take Two.