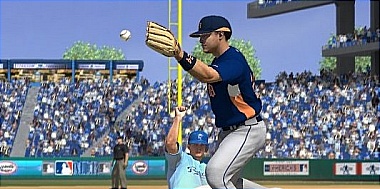 A new roster update has been released for MLB 08: The Show. There were 37 player movements made for this week's live roster with those below having been highlighted.
3B Eric Chavez moved from A's Position to A's Minors.
CP Brad Lidge moved from Phillies Minors to Phillies Closer.
RP Tom Gordon moved from Phillies Closer to Phillies Relief.
RP Francisco Rosario moved from Phillies Relief to Phillies Minors.
SP Sidney Ponson moved from No Team to Rangers Minors.
3B Andy LaRoche moved from Dodgers Bench to Dodgers Minors.
RF Delwyn Young moved from Dodgers Minors to Dodgers Bench.
3B Jorge Cantu moved from Marlins Minors to Marlins Position.
3B Dallas McPherson moved from Marlins Position to Marlins Minors.
SP Sergio Mitre moved from Marlins Starting to Marlins Minors
It's pretty remarkable that not only does SCEA release in-depth roster updates weekly (attributes, trades, injuries, signings) but that they even go to the extent of doing so during spring training. These are transactions that generally would've been ignored and deemed unimportant considering the time of year with the first significant update usually being the one for opening day.