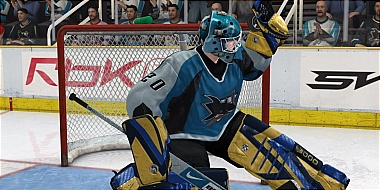 EA Sports has sent over a document detailing all the player rating changes made in the latest roster update for NHL 08. Continue on to view the details of what players had their ratings go up and which went down.
An update has also been applied that increases the capacity of Online Team Play. An additional three slots have been added on each side bringing it to six on six. That exceeds the total of 10 users involved through OTP currently found in NBA Live 08 and FIFA 08. Now every player on the ice can be controlled invididually. Having all players user controlled has worked very well in NBA Live and should here as well. Unexpected yet fantastic news there.
New: EA has informed me that they have reduced the OTP down to four on four and it will remain that way for 08. That is still an extra slot for each side but really doesn't add much to the experience that was already available. Not nearly as cool as having every player on the ice under user control.
Ratings UP
Corey Perry 84 to 85
Marc Savard 84 to 86
Derek Roy 78 to 80
Dion Phaneuf 85 to 87
Patrick Kane 78 to 82
Jonathan Toews 79 to 84
Paul Stastny 80 to 84
Nik Zherdev 79 to 80
Pascal Leclaire 81 to 87
Mike Ribeiro 79 to 84
Sam Gagner 73 to 79
Dustin Brown 80 to 82
Marian Gaborik 87 to 88
Alexei Kovalev 82 to 84
Tomas Plekanec 78 to 82
Andre Markov 81 to 84
Martin Erat 79 to 81
Alex Radulov 79 to 81
Zach Parise 81 to 82
Daniel Alfredsson 90 to 92
Mike Richards 76 to 82
RJ umberger 75 to 79
Jeff Carter 75 to 76
Peter Mueller 74 to 79
Evgeni Malkin 85 to 91
Paul Ranger 76 to 79
Nik Antropov 78 to 80
Ryan Kesler 79 to 83
Alexander Edler 72 to 78
Alexander Ovechkin 91 to 93
Tim Thomas 80 to 84
Jose Theodore 79 to 84
Mike Smith 78 to 78
Mathieu Garon 81 to 84
Ty Conklin 76 to 82
Ilya Bryzgalov 83 to 85
Tobias Enstrom 72 to 75
Patrick Sharp 77 to 81
Duncan Keith 78 to 81
Alex Burrows 74 to 76
Radim Vrbata 76 to 81
Carey Price 76 to 84
Andrew Cogliano 73 to 77
Andrei Kostitsyn 75 to 80
Ratings DOWN
Vlachslov Kozlov 86 to 82
Michael Handzus 86 to 82
Saku Koivu 88 to 86
Sergei Brylin 84 to 82
Mark Recchi 86 to 81
Doug Weight 85 to 82
Patrick Marleau 90 to 89
Darcy Tucker 85 to 80
Jason Blake 82 to 79
Bryan McCabe 85 to 82
Dwyane Roloson 89 to 84
Ray Emery 86 to 84
Bobby Holik 85 to 84
Robyn Regehr 86 to 85