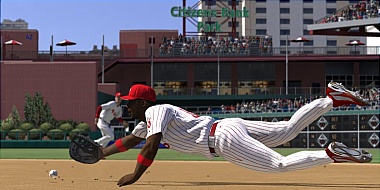 Back in early January I wrote an article regarding how a few companies had decided to no longer provide 1UP/EGM with prerelease copies of their games. The companies in question felt that they were not being treated fairly and that they could go to other outlets instead. This wasn't a case of trying to buy off reviews. Instead it was simply wanting their titles to be treated with the proper level of respect. There is obviously no way to stop them from reviewing the game however they weren't going to provide them with the copies to do so.
One of those companies was SCEA who produces the MLB The Show franchise. Last year 1UP gave MLB 07 a ridiculous 5.5 which was the lowest score the game received. While people will concentrate on the low score the text of the review was riddled with misinformation and factual mistakes.
1UP has just posted its review of MLB 08: The Show giving it a score in their new rating scale of a B-. That equates out to a 6.7 per their system (of C=5) which is how Metacritic converted it. That is the second lowest score given to the game with only the embarrassing 6/10 from X-Play coming in below it. No other media outlet has even scored the game below an 8. Believe it or not this makes it two straight years that The Show is rated lower than 2K's franchise by 1UP. This year MLB 2K8 on the PS3 got a 7.5 from them. Lets take a look at some of the points made in the review.
Sliding into a base kicks up a convincing cloud of dust, but it comes from a brown basepath that doesn't really look like dirt. Wrigley Field's ivy-covered walls look fine when seen from afar, but as the outfielder approaches, all that foliage looks more like bad wallpaper.
I really don't even know what to say to this. That a one page review goes and cites these type of things early on is a sign of things to come.
lackluster commentary detracts from the whole experience. Sony brought in a professional sportscaster team anchored by San Diego Padres play-by-play announcer Matt Vasgersian, but they sound almost bored and isolated in their parts, as if they were recorded in separate studios.
If The Show's commentary is "lackluster" I wonder how 2K8's would be labeled. At the very least they call the Tampa Bay Rays by their name and didn't just cut out the word "devil" and splice the remaining audio back together (as 2K8 did). The commentary is actually excellent and is often cited as one of the strong points of The Show.
But it's unnecessarily small, compressing the movement of the meter, and even for ace pitchers it moves so fast you're just stabbing at the buttons rather than getting in rhythm with the motion.
What??? Seriously, if you can't handle the feel of a pitching meter maybe playing a baseball game isn't for you. It has always felt natural timing wise going with each pitcher's motion.
To make matters worse, even nailing the perfect release doesn't guarantee results. This is where that pitch meter comes back into play. A pitcher who's lost it on a given pitch won't put that pitch where you want it no matter how well you groove the meter….While your pitcher is doing well, the system succeeds at giving you a sensation of accurate location and control….But when it starts to unravel, it falls apart completely. Give up a run and your confidence takes such a hit that every pitch suffers. Make one mistake with the touchy meter and a pitch can be rendered nearly unthrowable.
Ironically the meter is being knocked here for making it difficult to spot pitches at times. The opposite is the usual argument, so far as 2K determined they needed a whole new system to try and replicate the sometimes erratic nature of pitching. Please, if anyone has ever experienced the inability to control their pitches completely in the Show, speak up. I don't expect anyone will.
Could this review be retribution on 1UP's part? Possibly, but it's hard to believe they would've given the game a fair review regardless considering their history of overall poor reviews for all sports games. So kudos to Sony for taking a stand and not putting up with the mistreatment of The Show. This review from 1UP just proved it was the right decision.
When it comes down to it MLB 08 The Show has two areas where it could really use improvement. Collision detection and online play. Funny though that they weren't even mentioned as detractions in the 1UP review. In my assessment other than those two things the game shines as one of the most enjoyable, deep, and well made sports titles ever. So if I were to grade it out I would look at those downfalls, how much they meant to me, and measure that against everything else. In the case of online play (as disappointing as it can be at times) MLB 2K8 is actually worse in that area. So while the game isn't perfect, it's clearly the best baseball game available despite 1UP and X-Play trying to convince otherwise. If you haven't already checked it out make sure to read my MLB 2K8 vs MLB 08: The Show comparison article.