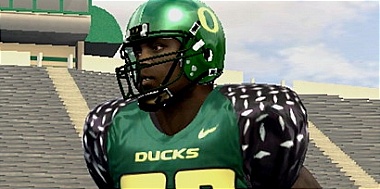 When the first screens from NCAA Football 09 were released they were met with a level of disappointment. I expressed that when I questioned whether they were really from 09. EA Sports has now released two brand new screens that are intended to showcase the player models.
NCAA Football 09 Art Director Jason Renfroe shares some details on what his team has done to improve the in game visuals and some of what you'll see in future screens of NCAA Football 09.

On player models:

"We've done a lot of work this year to improve the player models. They have a much more dynamic body shape. A key example here is what we've done with our linemen. In years past all of the linemen were big, fat guys. This year we have added lineman body types that are much more athletic. This really helps make the players look more authentic. We also added extra padding to accentuate the players' form and see the pads and their movement."

On improved lighting:

"In the past we had one lighting model. This year we have two. One model is for environments and one is for players. This does a lot to help the way players look better when they are in the shadows.

We also added a subtle rim light around the players so they pop more on screen. To improve the look of the stadiums, we've saturated our crowds and really brought in a lot of color to better bring out the college atmosphere. Our skies and field art are new as well."
You can check out the full images below by clicking the thumbnails. Needless to say these look significantly better than the initial McFadden screens.