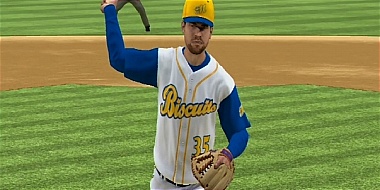 After spending more time in RTTS as a shortstop I decided to start over as a relief pitcher. As enjoyable as the mode can be as a position player it is much more fun as a pitcher. There is less loading to deal with since it isn't cutting into the game for single defensive plays which are boring anyway, and there is less frustrating time wasted while a teammate hits and you're stuck on base.
As a relief pitcher I can breeze through each game in probably 3-4 minutes as opposed to 6-7 and it also means that I don't get into every game. That is a big difference when going through lengthy seasons.
So Padre joined up this time with the Tampa Bay Rays and struggled initially. He began with in AA with the Montgomery Biscuits as the right handed setup man. Early in the season there were some struggles as Padre had an ERA hovering between 6.00 and 9.50 and an unimpressive WHIP. The only stat that he was doing well in was strikeouts averaging over one an inning.
However as the season has progressed he has improved significantly. Over the last 18 innings he has only given up one earned run. Padre is currently 2-2 with 2 saves, 11 holds, a 3.06 ERA, and a 1.08 WHIP. In 47 innings pitched he has 38 strikeouts so that ratio has actually dropped. He also has one blown save from early in the year.
Padre is now the main setup man and after going through the next set of goals may ask for a shot at being the closer or a move up to AAA. However right now the team is in first place at the All-Star break so there is no need to shake things up and risk upsetting the manager.