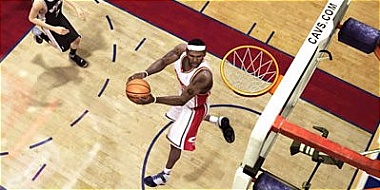 At the end of last month EA started up what should be a regular event with NBA Live producer Brian Ullrich. The "One on One" column features questions from the community in regard to NBA Live 09 or the franchise in general.
10 more questions have now been asked and answered but the following two were the most interesting in terms of changes for 09.
2.) "Any changes in the plan for icon passing?"

A: Yes. We're going to get rid of the delay in them coming up and we're going to put the direct pass icons above the player's heads to make them more visible.
This was one of the things I noted on several occasions as being a problem. Specifically the delay in them coming up as well as using the same button for alley-oops. Hopefully they've moved the alley-oops to a different button but unfortunately that wasn't stated specifically here.
3.) "Will it be harder to make a free throw with Shaq than with Nash?"
A: We're implementing a whole new free throw system this year, and yes it will be harder to make free throws with bad free throw shooters like Shaq. The current system was an experiment that we tried a few years ago to make free throws feel "next gen", but the truth is we made things too complicated and difficult. The new system will be much easier to understand and execute.
I've basically just used B to shoot free throws (it shoots them automatically at the percentage of the player). I've just never cared much for the right stick free throws. I wonder if they'll be going back to timing based using a button. Maybe something along the lines of a pitching meter in baseball games.
You can check out the full "One on One" column here.