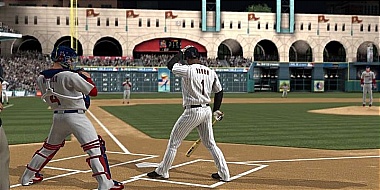 This week's roster update for MLB 08: The Show is out and it contains 37 changes. They've highlighted the specific ones below.
RP Ryan Z Braun moved from Royals Relief to Royals Minors.
SP John Lackey moved from Angels Starting to Angels Minors.
RP Anthony Reyes moved from Cardinals Starting to Cardinals Relief.
3B Nomar Garciaparra moved from Dodgers Position to Minors.
1B Olmedo Saenz moved from Mets Position to Mets Minors.
CF Brady Clark moved from Free Agent to No Team.
RP Kyle Davies moved from Royals Minors to Royals Relief.
SP Kyle Lohse moved from Free Agent to Cardinals Starting.
The regular season is about to begin! It is very much a relief to know that a new very detailed roster update is coming on a week-to-week basis instead of wondering when the next will arrive and if it'll even be any good to begin with. One benefit of this is that players not in the MLBPA will be added into the game immediately after they're eligible. So next week's update should be very significant as it will contain new players and finalized regular season rosters.