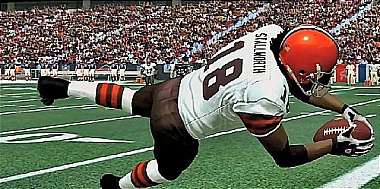 We've known for a while now that the much hated radio announcer was going to be replaced in Madden 09. The general assumption was there would be a return to basic commentary although there are several directions they could go. In a recent interview EA's audio director addressed the topic.
I know it's kind of early in the year but can you give us an idea of what kind of sound changes we can expect from Madden, NHL, FIFA – all the different sports games?

AH: I have to be careful about this. Although I can… We are making a change in the Madden commentators. I can't mention who they are. We are using some of the biggest names in the business. We listened to the fans and we are making a change. And that will be more than one. It will be a fantastic year for Madden fans, I think they're gonna be thrilled with this new direction. I don't think I can say much more than that.
So who do you think it could be or who are you hoping for? The Monday Night Football crew would make sense given the license although EA hasn't shown much interest in utilizing it for this type of thing so far. You can't rule out the Michaels-Madden combo although the secrecy suggests it's a new group of personalities. I'd like to see one of the duos from Fox which I find consistently to be the the best. If it really is big names then outside of the MNF group and Madden it could be the combo of Joe Buck and Troy Aikman. As long as Bryant Gumble isn't involved in any way it'll be an improvement.