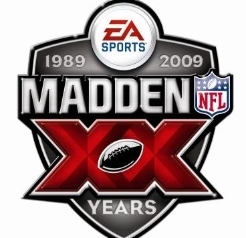 EA Sports has announced details of the 20th Anniversary Collector's Edition of Madden 09. It will include NFL Head Coach 09, exclusive classic Madden gameplay, and bonus video content. The price of the set will be $89.99 and the release date has been set for August 12th.
Whether you prefer to make your moves on the field, from the sidelines or in the front office, the Madden NFL 09 20th Anniversary Collector's Edition has something for every football fan. Madden NFL 09 will feature the most immersive gameplay, the richest online offerings and the most comprehensive feature depth in the history of the franchise, while NFL Head Coach 09 has been reinvented to provide a unique new NFL experience by allowing fans to be in total control of their favorite franchises. The two games offer unique experiences and then can even interact with one another with gamers being able to import their user-designed plays from NFL Head Coach 09 and put them into Madden NFL 09 to create customized playbooks for complete control on the field.
Great to hear about interaction between the two titles. A lot of people will enjoy creating the plays in Head Coach and then being able to use them in Madden.
Sounds like a pretty good deal and one of the few times I would want to purchase a collector's edition. No word on how much Head Coach will cost if purchased separately (I have doubts that it will end up being exclusive to the Madden CE) but getting it for essentially $30 presents great value and that isn't even considering the other extras. The biggest problem will be finding time to play both games with them coming on the same day.