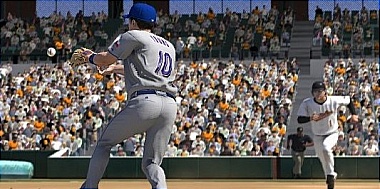 This week's roster update for MLB 08: The Show contains 195 player movements with a handful of them being highlighted below. The Red Sox, A's, Braves, and Nationals have played regular season games but the rest of the league starts up today so look for next week's update to be even more significant.
LF Paul McAnulty moved from Padres Minors to Padres Bench.
3B Chase Headley moved from Padres Bench to Padres Minors.
RP Kip Wells moved from Rockies Starting to Rockies Relief.
3B Scott Rolen moved from Blue Jays Position to Blue Jays Minors.
LF Shannon Stewart moved from Blue Jays Bench to Blue Jays Position.
RP Justin Hampson moved from Padres Relief to Padres Minors.
RP Tim Stauffer moved from Padres Minors to Padres Relief.
C Johnny Estrada moved from Nationals bench to Nationals minors.
RF Jeff Baker moved from Rockies Minors to Rockies Bench.
DH Scott Podsednik moved from Rockies Bench to Rockies Position.
2B Marcus Giles moved from Rockies Position to Free Agent.
CP Brad Lidge moved from Phillies Closer to Phillies Minors.
2B Nick Punto moved from Twins Position to Twins Bench.
RP Greg Jones moved from Dodgers Minors to Dodgers Relief.
3B Tony Abreu moved from Dodgers Position to Dodgers Minors.
Adding to the impressiveness of the updates is that SCEA is actively seeking feedback for future ones. Whether it is errors in the rosters, batting stances, or even details as minuscule as the equipment the players use they'd like to hear about it. You can send in feedback in to sceamlbfeedback@gmail.com