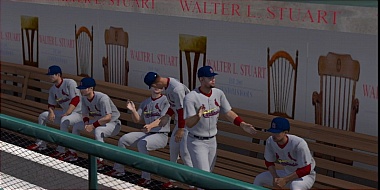 This week's roster update for MLB 08: The Show contains 230 player movements with the ones below having been spotlighted. This is a very significant update as it includes those that have just now become members of the Players Union by making an appearance in their first MLB game.
RP Rudy Seanez moved from Free Agent to Phillies Relief.
SP Woody Williams moved from Astros Starting to Free Agent.
SP Chris Sampson moved from Astros Relief to Astros Starting.
3B Scott Spiezio moved from Free Agent to Braves Minors.
CF Tony Gwynn Jr moved from Brewers Bench to Brewers Position.
LF Juan Pierre moved from Dodgers Position to Dodgers Bench.
LF Andre Ethier moved from Dodgers Bench to Dodgers Position.
LF Jay Payton moved from Orioles Bench to Orioles Position.
CF Brady Clark moved from No Team to Mets Bench.
RP Cha Seung Baek moved from Mariners Minors to Mariners Relief.
SS Mike Morse moved from Mariners Minors to Mariners Bench.
RP Aaron Fultz moved from Indians Minors to Tigers Minors.
SP Kei Igawa moved from Yankees Relief to Yankees Minors.
RF Trot Nixon moved from D'backs Position to D'backs Minors.
DH Jeff Salazar moved from D'backs Bench to D'backs Position.
SP Tim Stauffer moved from Padres Relief to Padres Minors.
CF Jim Edmonds moved from Padres Position to Padres Minors.
It appears that some player equipment has been lost in this update which is an issue they'll hopefully correct shortly. TJ @ Operation Sports has posted that he is in contact with SCEA and they are working on a fix but an ETA is not yet available. All feedback related to the rosters can be sent to their designated email sceamlbfeedback@gmail.com
If you do not have the ability to take your PS3 online you can download the file directly from this link and transfer it from your PC to your PS3.