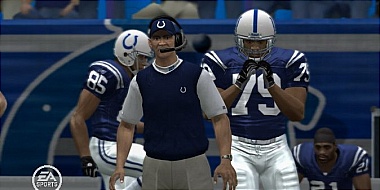 Soon after the news was clearly relayed that NFL Head Coach 09 would be exclusive to the 20th Anniversary Edition of Madden 09 I wrote about why the decision didn't make much sense. The value of the Anniversary Edition would not be harmed by selling the game separately for the standard price and being able to save money through purchasing the special edition set. However it would keep people from purchasing Head Coach who had no interest in or already owned Madden.
I still feel that this is a decision EA may reverse. Curiously Gamestop/EB still lists Head Coach as releasing individually on September 4th. Generally when an announcement is made they would make corrections to their database, so to see it still there makes you wonder if things are up in the air or if a contrary decision has been made behind the scenes. I also like the potential symmetry of the game releasing on the opening day of the season. A day in which Tony Dungy and his Indianapolis Colts are featured in their brand new Lucas Oil Stadium against the Chicago Bears. Could selling the game separately but only after the Anniversary Edition of Madden has been out for a few weeks be a good compromise?
As mentioned previously even if Head Coach does not end up being sold separately then you'll be able to find copies of it on Ebay or possibly even in gaming stores (depending on how they decide to value it). It will have its own case. Otherwise I think Tony Dungy would be disappointed with being designated as the cover coach for a game that has no actual cover.