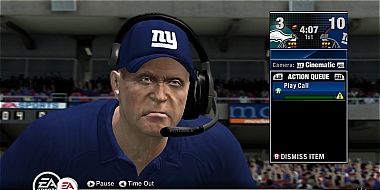 Earlier the latest screenshots for NFL Head Coach 09 were released. Now Gamespot has posted an updated hands-on with many details on the game. You can check it out here. I've pulled some of the aspects I found most interesting and commented on them but there is also a lot more to read in the full preview.
You'll be able to save up to 200 offensive and 200 defensive created plays to your playbook, export them to your Madden NFL 09 profile for use in that game (though you won't be able to use created plays online in Madden).

You'll also be able to upload created plays to your EA Locker for sharing with other Head Coach players. Here you can download the plays of other fans in the game and vote on your favorites. Interestingly, EA Sports producers told us that the AI-controlled coaches in the game will also be importing some of those user-created plays into their playbooks.
No surprise that they won't be allowing user-created plays in online games. I still don't see the logic in preventing them from being used in unranked games however. This is a gripe of mine that continues. All sorts of options should be available for unranked games, there should be little to no restrictions on what is allowed within them.
In the original NFL Head Coach, you could only play five-minute quarters; that's been rectified for Head Coach 09, and you'll be able to play full quarters as you go. Of course, if you're looking for things to move quicker, you can always check out the supersim options, which will let you skip ahead one play at a time, or further ahead in the game. Unfortunately, though you can use your teams and original playbooks online against other opponents in Head Coach, you'll only be able to play the games out using the supersim style of play, which is a bummer in terms of realism but, at the very least, will probably keep games quick.
That was a big gripe, the five minute quarters in the original Head Coach. It went so far that the modding community worked to get the PC version to have longer quarters. So this is another area they listened to feedback on. I'm not sure what I think of how it'll work for online play though. Supersimming through them will keep them quick which is a positive but I wonder if it'll take away from the overall experience that you aren't seeing the results happen on the field.
Roster updates will be available in NFL Head Coach but will only be available to you if you start your season in the preseason (not in the off-season, which is the other option available to you). These will be the same roster updates that Madden NFL 09 users will get, but with updated ratings, player information, and–possibly–player portraits to boot.
It makes sense that roster updates wouldn't occur if you're playing from the start of the off-season. It's somewhat a surprise that they'll come at all given that the game is so much about making your own team related decisions in the same way of thinking that roster updates don't make sense for franchise modes. For online play it is a big deal though.