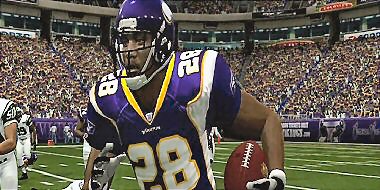 Jon Robinson over at Gametap has posted his top 10 candidates for the Madden 09 cover along with odds on the likelihood of each occurring. After putting a list together for Madden 08 (while at IGN) I began to wonder if he knew more than he was letting on when he had Vince Young listed second behind only LaDainian Tomlinson (who actually was the first choice but turned it down). Up until then no one had really considered Young to be a top candidate.
So if you look at his the list for 09 does anything jump out in the same way that Young did last year? Not really. The top ones mentioned are the obvious guys like Adrian Peterson, Eli Manning, and Tom Brady with John Madden thrown in due to the 20th Anniversary angle. He has Tomlinson fourth but I have my doubts that EA would even consider him again after his agent made it public that they weren't offering enough money to get him last year. You can check out the full write-up of the top 10 candidates here.
Look for my analysis of the possible cover athletes for Madden 09 as well as the PS3 version of NCAA Football 09 to be posted by next week.