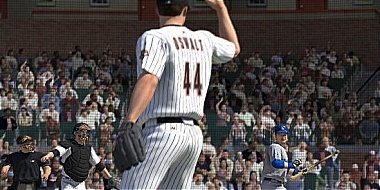 The weekly roster update (4/14) for MLB 08: The Show is now available by visiting the SportsConnect section of the game. This updates includes 121 player movements. It also should fix the minor issue caused by last week's update which removed some player equipment. SCEA has highlighted some of the changes made below. If your PS3 doesn't have access to online you can download the file from here and then transfer it over.
SP John Smoltz moved from Braves Minors to Braves Starting.
SP JoJo Reyes moved from Braves Starting to Braves Minors.
SP Josh Beckett moved from Red Sox Minors to Red Sox Starting.
CF Jim Edmonds moved from Padres Minors to Padres Position.
RF Jody Gerut moved from Padres Bench to Padres Minors.
LF Paul McAnulty moved from Padres Position to Padres Bench.
RP Bob Wickman moved from D'backs Minors to Free Agent.
C Michael Barrett moved from Padres Bench to Padres Minors.
LF Dmitri Young moved from Nationals Position to Nationals Minors.
RP Hideo Nomo moved from No Team to Royals Relief.
CF Tony Gwynn Jr moved from Brewers Position to Brewers Minors.
LF Ricky Ledee moved from Free Agent to No Team.