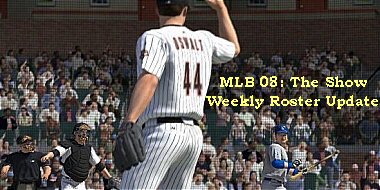 This week's (4/21) roster update for MLB 08: The Show is out and contains 114 player movements. There was also a patch released at the end of last week. What it affected is still unknown although it doesn't appear to have improved online play and may just have applied to some of the minor issues the game had. Highlights of the roster update below. Those without online access can grab the file manually from here.
LF Wily Mo Pena moved from Nationals Minors to Nationals Position.
CF Shane Victorino moved from Phillies Position to Phillies Minors.
CF Jayson Werth moved from Phillies Bench to Phillies Position.
SP Dontrelle Willis moved from Tigers Starting to Tigers Minors.
SP Francisco Liriano moved from Twins Minors to Twins Starting.
3B Ty Wigginton moved from Astros Position to Astros Minors.
3B Geoff Blum moved from Astros Bench to Astros Position.
3B Nomar Garciaparra moved from Dodgers Minors to Dodgers Position.
RP Kazuo Fukumori moved from No Team to Rangers Minors.
3B Mike Lowell moved from Red Sox Position to Red Sox Minors.
1B Sean Casey moved from Red Sox Bench to Red Sox Position.
SS Royce Clayton moved from Red Sox Minors to Free Agent.
RP Josh Sharpless moved from No Team to Giants Minors.
RP Vinnie Chulk moved from Giants Minors to Giants Relief.