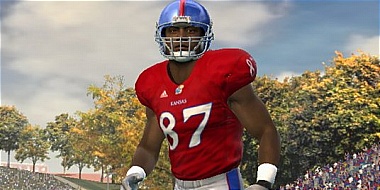 EA Sports will be releasing a screen of a new alternate jersey every weekday. With the stated 50+ alternates that should run it all the way up to around release time. The first came out yesterday and displayed the Kansas Jayhawks red jersey. I won't be doing a post for each screen but they will be added into the gallery on a daily basis or you can check the NCAA Football 09 website for them as they go up.
*Notre Dame now added to the gallery.
I have the full size Madden 09 snow screenshot which offers a much better look than the "micro" one that Gamestop decided to run with. Both "Madden Monday" full size screens can be found in the gallery.