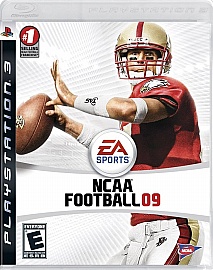 Soon to be top 10 NFL draft pick and former Boston College QB Matt Ryan has been selected for the PS3 cover of NCAA Football 09. He joins Darren McFadden (360) and Sparty (Wii) as representing the cover of the console specific versions of the game. The PS2 and PSP covers are still to be announced in the future.
Former college football standout Matt Ryan will join former Arkansas All-American Darren McFadden as a spokesman and cover athlete for NCAA Football 09. Ryan will be featured on the PLAYSTATION®3 cover and as a four-year player, he finished his career at Boston College as the school's career leader in pass completions and was named the Atlantic Coast Conference's Offensive Player of the Year in 2007. In his senior season, he helped lead the Eagles to an 11-3 record and a victory over Michigan State in the Champs Sports Bowl. Ryan was awarded the 2008 Manning Award, which is given each year to the nation's top senior quarterback.
Ryan seemed like the most likely choice in the breakdown of potential PS3 cover athletes so this doesn't come as a big surprise and does make a lot of sense.
Other news to come out of the press release is the online dynasty is exclusive to NCAA Football this year and will allow for up to 12 user controlled teams for up to 60 seasons.