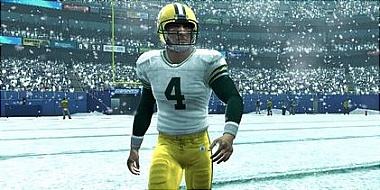 Thanks to the official press release regarding the selection of Brett Favre for the cover of Madden 09 we now have the first idea of some big features in the game. The likely NFL Network duo of Tom Hammond and Cris Collinsworth will be featured as the commentators for Madden 09 and online leagues have been added.
Madden NFL 09 strives to take authenticity and depth of gameplay to an new level with more than 85 new features and enhancements, including the all-new Total Control Animation system. This system will allow players to perform combination moves like never before and includes an innovative picture-in-picture playcall window. In Madden NFL 09, the game engine is continually assessing the player's performance and will adapt a custom experience to every type of gamer, from newcomer to the veteran Madden NFL player.

Madden NFL 09 will also feature a network-inspired broadcast presentation. Players will benefit from the authentic football knowledge of an in-booth play-by-play and color commentary team featuring Cris Collinsworth and Tom Hammond. In addition, numerous graphical enhancements have been made, including realistic weather and grass, sleeker player models and exterior stadium views.

Madden NFL 09 gives gamers the ability to create online leagues. Fans can now take their rivalries online and compete in leagues with up to 32 teams. Online league play will feature in-depth stat tracking and a flexible scheduling option.
Seems like a good choice for commentators. Regardless of who they went with some people weren't going to like them but there were some possibilities that would've been much worse. After finding out all the details regarding online dynasty in NCAA Football 09 I'm encouraged that the online leagues in Madden will have all the options and flexibility that would be necessary.