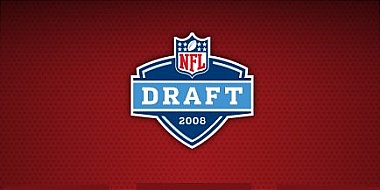 I'll be around throughout the first round updating on a regular basis. Keep refreshing for new things that have been added such as draft thoughts and rookie Madden screenshots coming out of EA's Madden 09 draft page (which will include "trading cards" with the rookies). I'll also try to respond questions posed in the comments just keep in mind I can only give my thoughts on items surrounding Madden and NCAA that are public knowledge and not hands-on specific until 5/2.
1145: If the draft goes as they're slating it right now (Long-Long-Ryan-McFadden) where does Dorsey end up? The Chiefs already have a ton of picks but I'd imagine someone like the Bengals or Saints looking to move up to grab him.
1204: As big as Jake Long is described I didn't think he looked that huge in person.
1211: Chris Long is the better pick than Dorsey for the Rams. Already feeling the benefit of shortening the time between picks.
1214: Last year the Madden rookie screenshots lagged behind where the draft was at and I expect that to happen again especially with less time between picks. Apparently it is a pretty time consuming process to get those done on the spot like that.
1218: Good move for the Falcons to draft Ryan and put the whole Vick thing to bed for good.
1228: Dorsey made more sense for the Raiders but I can understand why a team would want to draft McFadden. There really isn't any risk because if he ends up being a disappointment then everyone was wrong (the Reggie Bush scenario). But if they pass on him and he turns out to be great then they will regret it for a long time.
1232: Anyone see the Madden 09 footage aired on NFL Network earlier? I didn't but I've got my Tivo running and if it plays again I'll have it ready to upload soon after.
1235: The Chiefs are going to make out pretty well this year with all their picks. Getting Dorsey there at #5 is practically a steal and they can still grab an offensive lineman at #17.
1238: NFL Network draft coverage > ESPN draft coverage
1246: The process for rookie screenshots is tedious and time consuming as mentioned earlier. I'm surprised they didn't have Jake Long's ready to go though (it is still a few minutes away). They also are including an interactive trading card on the website for each first rounder. I'll drop the screen here once it's out.
1254: Flurry of trades now. That is a big move by Jacksonville they must've given up a lot.
1256: Good news as a Seahawks fan that the Ravens are sitting at 26. Now a team looking to grab Flacco or Henne will look to the Seahawks at 25 for a trade.
106: Jake Long screenshot will be up within the next five minutes.
111: Jake Long Dolphins screenshot (click thumbnail to view)
119: There is a delay on the Chris Long screenshot. Matt Ryan is up.
123: Good news that the Broncos are going OT instead of RB. Want Jonathan Stewart in a Seahawks uniform!
125: The draft is just cruising along. Love the new format.
128: "pasta, what do you think about the screenshots so far?" (Sean). The Ryan one looks pretty good, I think it's just really tough to take screens of offensive lineman given I know from doing the Madden Mock Draft which would explain why Jake Long's isn't great. The EA guys are there taking the screens and doing their best in a time crunching situation.
128: No! Stewart is gone!
137: I'll have to keep a dream of Mendenhall or Albert dropping to 25 alive (unlikely) otherwise it'll be a trade down for the Seahawks.
145: The Chiefs getting Albert is a great move. Albert and Dorsey that is a hell of a first round. Building from the inside out is the right way to go. They just need a QB now.
153: While the Cardinals needed a CB with Rolle moving to safety I'm relieved that they didn't take Mendenhall.
157: Well first big surprise there with the Lions. I figured that the Lions didn't want Mendenhall if they were trading behind the Cardinals.
158: Chris Long on the Rams screenshot
203: Ravens move back up. Will it be Flacco or Henne?
206: The dream of Mendenhall is starting to look like a reality. The Cowboys and Steelers are the two that may consider him but I don't see the others taking him.
211: Surprised the Eagles traded down with Devin Thomas still on the board.
218: After getting to meet DeSean Jackson I'm really curious to see where he ends up but still no WRs have been picked (I expect TB to take one here though).
222: Well now it's the Redskins with their pick of WRs.
228: Wow no one wants a wide receiver?
236: This Cowboys pick is going to be really interesting.
238: The Cowboys took Felix Jones over Mendenhall! I really appreciate that.
242: Figures the Steelers would steal Mendenhall. I hate them even more now.
248: Glenn Dorsey Chiefs screenshot
251: Chris Johnson is going to be surprisingly good, I just didn't expect him to go until the second round. Seahawks up now, if they can't trade down then maybe a WR or Phillip Merling.
254: Seahawks on the clock. That means cut to commercial time or talk about other teams like every year.
258: That's a relief a trade. Still can get one of those players but pick up something extra. I guess the Cowboys are going WR here. Got #28, 163, 235 for #25.
300: Well they did need a CB. But wow still no receivers taken and I wouldn't expect the Texans or Chargers to take one. So it could be back to the Seahawks with all the WRs available.
311: What a surprise, time for them to take another break with the Seahawks on the clock.
317: I really was hoping for an offensive selection there. Memories of Lofa Tatupu makes this at least somewhat encouraging. Seems like a safe pick.
323: Crazy that this is the longest a draft has ever gone without a receiver being taken.
336: With the first round now over…and how about that it was only 3 1/2 hours…I'll continue updating just maybe not quite as often. Definitely will continue adding in the screenshots as they appear.
341: Darren McFadden Raiders screenshot
344: Wow I'm not sure what the Rams are thinking taking Avery as the first WR. Thomas then goes to the Redskins so they get great value there.
400: Derrick Harvey Jags screen.
402: Excited about trading up and addressing TE by taking Carlson (who they wanted all along). Really would've liked Limus Sweed there too.
404: Been told that the screenshots should start coming at a faster pace.
428: Leodis McKelvin, Keith Rivers, and Sedrick Ellis screenshots coming up shortly.
441: The Rivers and McKelvin screens are absolutely fantastic. Seems like they're getting better as they go.
447: So is everyone noticing the uniforms are correct so far? Bills blue on blue.
454: Good to see DeSean Jackson go off the board finally. I'll be rooting for him to do well.
456: Great one here. Vernon Gholston Jets screenshot.
525: Who's up for some GTA IV online this week? I was considering a get together night for it even.
555: Well how about that the first day of the draft is over within 6 hours. So much more enjoyable this year and it seemed like the activity wasn't adversely affected.
621: Latest update on the first round screenshots is they're still working on getting them out and they will be in the studio until they're done no matter how long it takes. Jerod Mayo should be up soon.
644: Jerod Mayo Patriots
701: I'll be in and out the rest of the evening and will be adding the screenshots here in bunches when I can. Feel free to leave feedback about the live blog idea as well. It's the first time I've ever tried something like this.
906: Got Jonathan Stewart, Joe Flacco, and Gosder Cherilus.
1004: Jeff Otah and Chris Williams
1033: I've seen some people pointing out minor errors in uniforms. If you notice anything please leave a note in the comments and I'll compile a list to send to EA. Heading off to sleep so I'll tack on the rest of the screenshots in the morning.
4/27
835: Rashard Mendenhall, Sam Baker, Dominique Rodgers-Cromartie, and Felix Jones
842: Lawrence Jackson, Ryan Clady, Chris Johnson, and Kenny Phillips
845: Dustin Keller, Duane Brown, Antoine Cason
850: Kentwan Balmer, Branden Albert, Mike Jenkins, Aqib Talib
1208: Hey the Seahawks just drafted Owen Schmitt, he was at the NCAA cover reveal event actually. Pleasantly surprised he was snagged.
519: So what did you guys think of the live blog? Was it worthwhile? Should there be more of them? Ways to improve?
Keep leaving notes on the jerseys and if any errors are noticed and I'll continue to add them to the list which is being sent to Madden producer Phil Frazier.
Thanks to everyone who's been contributing to the site by visiting and commenting. The last three days have been the most successful in terms of visitors and views since its inception.
This concludes the posting I'll be doing for the live blog but I will continue to monitor any comments.