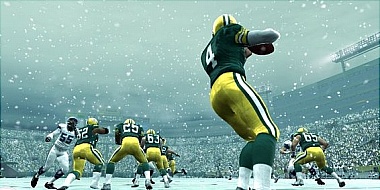 Well I was wrong about nothing significant coming out in an effort to avoid getting swallowed up by GTA IV on its release day. IGN has the full details on Madden 09's online leagues via an interview with two of the Madden developers which you can read in its entirety here. It focuses on the league aspect but later in the interview shifts to discussion on the Virtual Training Center. They've also posted up the first gameplay footage. You can watch that video by clicking here (make sure to watch in hi-res).
Flex scheduling is cool for a multitude of reasons. First off, flex scheduling is what we refer to as an 'open schedule' with no set order. What this means is that if you log online and ten members of your twenty member league are online, you can play any of your opponents that you have remaining games with. The nice thing about this is that it doesn't allow for leagues to get stale or held up waiting for others to play. If the stars align, and you have all of your opponents online, you can, in theory, knock out your entire league in one day.
Leagues are always difficult to see through to the end. You need a good group of owners and a wide array of options for the commissioner. I like the idea of offering open schedules and providing the ability to have the same team controlled by different owners. Those are the type of options that are helpful and assist in making them more likely to succeed.
It sounds as though they've thought them through pretty well and aren't the glorified tournaments recently touted as leagues for titles such as NBA Live 08 and NHL 08. Those didn't even include playoffs which essentially made them worthless. I'm going to assume that playoffs are included in Madden's leagues, although not hearing them mention it within the interview was noticeable. Hopefully there is some sort of confirmation soon that there will be playoffs in the leagues.