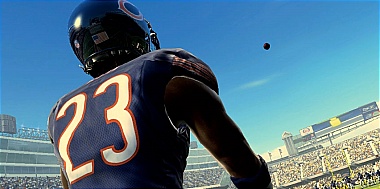 This week's Gamestop Madden Monday focuses on the ability to return missed field goals and includes two new screenshots of Devin Hester in position to do so.
One of these Madden NFL 09 innovations is the ability to return missed field goals. Over the past couple of years, we've seen in the real-world NFL how a seemingly insignificant field-goal attempt can be turned into a momentum-changing, or even game-deciding, touchdown return.
It will be a nice change to force people into considering the risk of attempting a long field goal. However if kicking is overpowered (as has been the case seemingly forever) it may not really matter. Hopefully kickoffs aren't going through the back of the end zone and long distance FG attempts actually have the potential of coming up short enough that they can be returned.