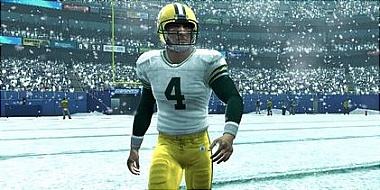 EA Sports has released a new short trailer for Madden 09. This one features Brett Favre and the Packers playing in the snow, mentions the over 85 new features and enhancements, and claims the 20th anniversary edition will redefine the franchise.
I suspect this was originally intended to be the first look at the game in action. This trailer differs from the debut video in that it is more of a traditional trailer whereas the first one showed off extensive gameplay along with enhancements to the presentation.
Continue on to view the trailer.