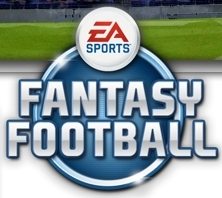 The EA Sports Fantasy Football website now contains a trailer that details some of what to expect from their league system. It will officially be launching on June 11th.
Leagues/teams are free
Manage league drafts through the 360 and PS3
Live scoring on the 360 and PS3
Import your fantasy team into Madden 09
Advanced commissioner scoring and setup
Back at the end of February EA was actively looking for suggestions on how to integrate fantasy football into the Madden experience. It looks like they've taken some of those ideas and implemented them such as the importing of your fantasy team into the game along with also offering the live drafts and live scoring via the PS3 or 360. For the importing of teams I'll be interested to find out how they are filled at positions that aren't being utilized in the fantasy league.
I'd still like to see something along the lines of fantasy football "achievements" on the website and a ticker in the game that would display league stats, scores, and news (such as transactions) throughout the week.
Hopefully you'll be able to play with your fantasy teams in unranked online games. You basically could do that last year but it was a lengthy (and at first confusing) process to put together a custom team and play online with them.