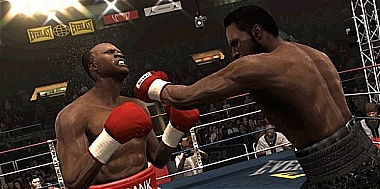 With just one month to go until release the first gameplay footage from Don King Presents: Prizefighter has finally appeared. Up until now the storyline has seemed intriguing (despite it being linear) but there have been questions around the gameplay and why no videos had been shown or hands-on time been given.
In a demonstration done on the Gamespot program "On The Spot" executive producer of the game Matthew Seymour walks through some of the aspects of the story mode and fighter creation before getting to the gameplay.
Needless to say the action looks…well the best way to put it may be awkward. I still think that the story mode could be fun to play through but the gameplay shown is rough to watch.
With this being the first look at the game and the big news coming out on Fight Night Round 4 yesterday, it is an uphill battle to keep or gain the interest of gamers right now considering the position Prizefighter has placed itself in.
In something that may be even more interesting than the video, a representative of 2K Sports on the company's official forum (2K Admin Ron) is publically berating the game's executive producer for his "ridiculous representation of the game", that it looked like he had never played the game before, and that the game was made a mockery of. All of those quotes and more can be found in the reaction thread in their forums.
Continue on to view the video which runs for approximately 11 minutes.