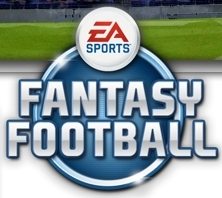 Through an interview with producers Justin Withers and Ronnie Morales I was able to get a good idea of everything involved with the setup/procedures and new features that are being rolled out this year with EA Fantasy Football. The confusion created by the previews that have been released on it should be taken care of thanks to this discussion.
First of all the website based leagues remain. Drafting through the websites will function as normal. They are still completely free including the live web-based drafts and even the live stat tracking. The exporting of teams into Madden 09 will work for all types of leagues regardless of whether they use the website or live console draft.
EA Sports wanted to get serious within the Fantasy Football ranks and have put a lot of effort into creating new innovative features and taking advantage of resources that no one else has. This is the fifth year for EA's FF but just the second since it has been worked on out of Tiburon. There will be a big focus on the website in terms of the "EA Experts" offering advice including articles and podcasts along with other features that should provide a lot of valuable information throughout each week.
The new live console draft is being targeted at the groups of people who get together in person for draft parties. It is completed on one console (offline) so there is no connecting to draft through the consoles from multiple locations. Once downloaded the application can be used for as many drafts as desired. The league will be set up via the website, information from there (number/order of picks, team names, ect.) sent to the draft application, and then following the draft all of that uploaded to the website. They are aware that there would be great interest in hooking up with others on consoles online and completing a draft in this manner and that is something to look for in future years.
One thing I really like about what they've added is after many of the top players are selected it will play a video talking about them which should really add to the draft experience. It was noted that the draft, for many people, is the thing they look forward to most. EA is hoping to make the fantasy draft feel more like the real NFL Draft.
The live scoring via the console will offer picture-in-picture viewing if the TV supports it, or it can just be left up and switched over at your convenience. For some people it may be better than using a laptop or going back and forth to the computer. Stats Inc will be providing the real-time updates which is about as reliable as you can hope for. You'll also be able to view league standings and scoring from the live stats program.
As mentioned previously the prices for the console draft download and live scoring are not yet finalized. They are looking at making them available on July 17th for the draft application and September 1st for the live scoring.
The importing of teams into Madden sounds as though it'll be a relatively simple process. When you export your team out of the website it'll transfer right into your game. Once in the game you can make any edits desired.
Your fantasy teams will be playable online in unranked games. They can be used against any opponent (not just fellow league members) again being restricted to unranked. This in turn means custom rosters will again be playable online which is great news.
One area I wanted to hear about was how the teams would be filled at positions not being utilized in the fantasy league. When it comes to defense, if you are just using team defense you'll receive that entire team's defense. The offensive line will correspond to the quarterback that was selected. Basically the way the teams are completed will vary based on how the league is structured.
It will be interesting to see if they've expanded on the customization options in Madden this year. Last year there were only a handful of logos and uniform combinations that could be had. With the move towards open customization in EA Sports titles there is hope for expansion in the area (please let us see the team and player names of our opponents this year online also).
I came away from the interview with a clear understanding of what to expect this year. The online leagues conducted primarily on the website will operate in much the same way as last year and remain free (but will have additional content tied-in and features such as the importing of teams to Madden). Those conducting drafts in-person could be really interested in the live console draft option which would blow traditional methods out of the water. Finally the Madden 09 integration sounds as though it'll be a fun addition and be much easier than just putting together a custom team which was a painstaking process last year. Thankfully unranked games will allow for custom teams to be used.
Over the past several years fantasy sports has just gotten stale for me. I lost a great deal of interest in it and found that it was actually decreasing my enjoyment of the real NFL. With some of these new features though that may change and now I'm actually looking forward to getting a league started. Look for more on the leagues once the sign-ups begin on June 11th.