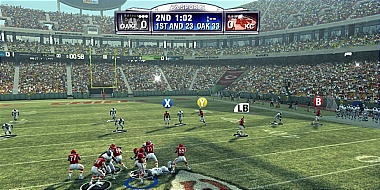 Another week brings a look at one of the new features or improvements to Madden 09 in the Gamestop Madden Monday blog. This week the focus is on the "ActionCam" which is the new camera angle that adjusts to display all of the players on the field.
Madden NFL 09 will feature a camera system that dynamically adjusts to keep all of your players in view, eliminating the need to blindly pass off of the edge of your screen and hope for the best. When you run a pass play, the ActionCam automatically pans out, zooms in, and adjust angles to keep all of your receivers on the screen.

Once you complete that pass, if the ball carrier happens to break away from his defenders, the ActionCam will rock back and forth, zoom in and follow the ball carrier, giving you that intense feeling that you're sprinting alongside him. And if a defender happens to really lay into the ball carrier, the Big Hit Camera will rattle the screen with the force of the crunch. It's like having a tiny producer in your console that constantly assigns the best camera angles.
A camera changed has been needed for a long time. I know personally I've tended to shy away from throwing to receivers on the outside, or gone to plays that had them coming into the middle of the field, because I couldn't see them and it was too risky otherwise. From the videos that have been released and the two new screenshots it doesn't seem to be a drastic change so it shouldn't take long to get comfortable with it. The classic camera will remain in as an option however I doubt many will prefer that over this new camera.