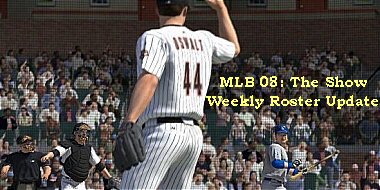 This week's (5/12) roster update for MLB 08: The Show is now available and includes 79 player movements. The highlights of the update are below. For those without online access for their PS3 you can download the file from here.
RP Jack Taschner moved from Giants Starting to Giants Relief.
SP Barry Zito moved from Giants Relief to Giants Starting.
LF Bronson Sardinha moved from Mariners Minors to Indians Minors.
SP Wilfredo Ledezma moved from Padres Relief to Padres Starting.
RP Justin Germano moved from Padres Starting to Padres Relief.
RP Shawn Estes moved from No Team to Padres Relief.
SS Jimmy Rollins moved from Phillies Minors to Phillies Position.