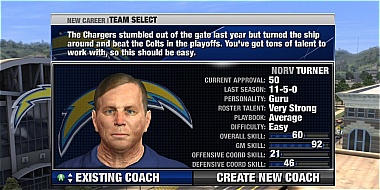 Gametap has a new interview with NFL Head Coach 09 lead producer Josh Looman. The discussion goes over aspects of the game that are already known if you've been piecing together the information over the past few months, but it is worth a read to get the overall sense of the direction the game has taken. The play editor, free agency negotiations, and NFL Draft among other areas are detailed. You can check out the full interview here.
But the coolest thing we have this year has to be the in-game play editor that enables you to edit any play in the game. That's the thing people are the most excited about. It's like when you're a kid drawing plays in the sand. It makes you feel like a coach. If there's a play you like but wish the receiver would run a streak instead of a curl, now you don't have to hot route, you can edit the play right there, save it to your playbook, and then export your entire playbook into Madden.
Vote in the poll below on whether you plan to start Head Coach at the beginning of the 2008 season with the up-to-date rosters or rewind back to the beginning of the offseason and let the events play out in the game.
{democracy:24}