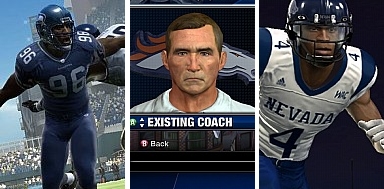 As mentioned yesterday there are a couple of community events taking place in the near future. The first one covers the three football games as NCAA Football 09, NFL Head Coach 09, and Madden 09 will all be available for significant hands-on time. There will also be some presentations and producer interaction taking place. This will be held next Thursday and Friday (5/29-30) with travel days buffering.
When it comes to the subject of embargoes this is how it will likely shape up. NCAA will be wide open for discussion for obvious reasons. Head Coach should be wide open as well given that essentially everything there is to be known about the game has been revealed. When it comes to Madden though I suspect that we will be held back on a few of the features that have not been made public. Still though there should be a ton to talk about right away including general impressions of the game and majority of the features. There is even the potential of holding a live blog at some point during my time out there.
While I will be concentrating mostly on Head Coach and Madden, there is a good opportunity to spend at least some time with NCAA to compare the most recent build to what was played late last month. I should be able to communicate any adjustments or changes that have been made which really can only be done through the feel of it. Both myself and Chris Jacobs from NCAA Strategies should be able to give that perspective on the game and how it has progressed.
This will be another chance to give input and hopefully see that reflected in the release versions as Madden and Head Coach are still early enough that feedback could be considered and acted on.
As always feel free to leave comments on what you would like to hear back on. I can't guarantee that everything will be gotten to but I do take the suggestions and requests into consideration.