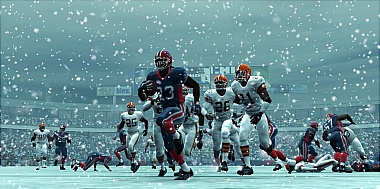 IGN has posted up their hands-on report for Madden 09 and also added some new screenshots. Overall it recaps most of what is already known about the game without much in the way of first-hand opinion, which is what we'll be able to provide next week out of the community event. You can read the full preview here, while a new gameplay video which includes an instance of the Rewind/Backtrack feature and the first time hearing the new commentators has been added and can be watched here (make sure to switch over to high-res).
As I've stated before, I really hope they not only reduce constant camera flashes from the crowd (should only be at specific moments) but also adjust the kickoff cut scene so that it won't prevent teams from having a chance to get their premiere returner in place to field it. Either that or they absolutely need to add a return play that has just one player back instead of two. Also the addition of rivalries affecting the games is a positive step forward, however a true home field advantage is sorely needed to add to the realism and atmosphere. Graphically though it is looking fantastic, obviously the gameplay is going to require hands-on time with to really evaluate.
I don't think there is much question that new feature wise NCAA Football 09 has the edge this year, but the overall package may still fall with Madden.