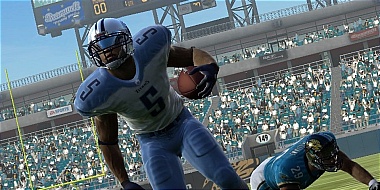 Another producer blog for Madden 09 has been posted, this one again from the new animation director Simon Sherr. There are two parts to the blog which goes over the running game in great detail. Part one can be found here while part two is here.
Our number one goal was to make the running game realistic while giving you absolute control. A common complaint in Madden NFL 08 was in the lack of gathering or planting animations needed to simulate a real NFL player, so we definitely wanted to bring those back into the game. The problem with canned special move animations though is that feeling of waiting for animations to finish – we don't want that at all. The great solution we came up with in our new system was the power to allow you to procedurally steer any animation, and interrupt them with plants and push offs.
The running game and player control represented some of the most significant improvements in NCAA Football 09 so I'd expect that to be the same with Madden. A very encouraging development in terms of gameplay and fun factor.
I've linked to the videos that apply to the blog entries below. Be sure to leave your thoughts in the comments.
Ball carrier video
LT vs Bengals video
Foot plant video
Locomotion video