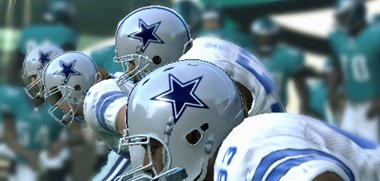 A while back I took down some notes on uniform errors that had been seen in the screenshots and videos for Madden 09. One of them was the Cowboys' helmet star which was far too large. Producer Ian Cummings has released a screen demonstrating that this has been fixed which can be compared to a previous Felix Jones screenshot.
In my interview with Peter Moore I brought up the issue of uniform inaccuracies and he stated that it would be a topic they would address. Since then we've learned that instead of using the NFL provided style guide they are reviewing the uniforms that have been worn by the teams in video to make sure they match correctly. That has shown to be a positive development as many teams that have been plagued by wrong uniform combinations over the years have been seen as finally correct in media that has been displayed.
Currently the list of uniform errors that I have noted for EA consists of: Ravens need black shoes, Chiefs need AFL patch and numbers on jersey sleeves instead of the shoulders, Steelers helmet should have single digit number on the yellow stripe instead of off to the side of it, and some Seahawks players wear neon green gloves or shoes (pipe dream that'll be in though).
Feel free to add anything you've noticed that isn't right or that has been incorrect over the years and I'll include them in the list to pass along as well as check on next week.