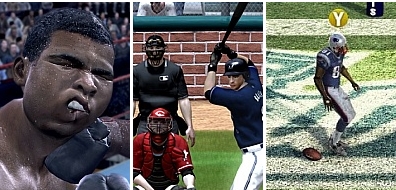 Gametap has an early look at Fight Night Round 4 through interviews with producer Dean Richards as well as Lennox Lewis and Sugar Ray Leonard. You can check that out here. Among the topics discussed is the new physics engine, inside fighting and glancing blows.
An astute poster over at Operation Sports has uncovered that Ben Brinkman, lead producer of the last two years of the MLB 2K series, has moved on to a new job and is no longer with 2K Sports. After the news their NHL series has moved from 2K LA/Kush to the Visual Concepts studio it seems that the MLB series may be following the same path of much needed reinvention.
The list of achievements for NCAA Football 09 is out and can be found here. Some tie into new features such as the online dynasty, custom sounds, and mascot celebrations though the majority are gameplay based.
EA Sports has come out and stated that "hardcore fans should not fear our new casual sports approach" in a new article here. Initial concern over this from the community seems to have dwindled as the upcoming releases are providing accessibility by adding options and personalizing difficulty levels based on how each individual's skills stack up. They've also branched out with the "Freestyle" label to keep a clear distinction between types of games.
The community asked for an option in Madden 09 to turn off the celebration light squares in the end zone after a TD and it has since been added. You'll still be able to activate the celebrations by going to the different areas, they just won't be displayed with the light squares.
Some info on SCEA's NBA 09 came out. The game will be adding in both a franchise mode and "The Life" mode. There will also be "team progression", expanded commentary, and the return of "NBA Replay" mode which is a really cool idea if only there was reason to play the game over 2K or Live. Hopefully this year SCEA's series steps up significantly in quality and depth.
The poll asks whether you feel a rewrite from the ground up and/or studio move would be an encouraging development for MLB 2K9.