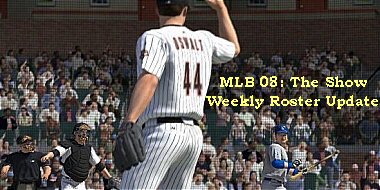 This week's (5/26) roster update for MLB 08: The Show is now available and brings 84 player movements. The highlights of the update are posted below. If you don't have online access for your PS3 you can download the file directly from here.
SP Clay Buchholz moved from Red Sox Starting to Red Sox Minors.
SP Bartolo Colon moved from Red Sox Minors to Red Sox Starting.
DH Jose Vidro moved from Mariners Bench to Mariners Position.
2B Callix Crabbe moved from Padres Bench to Brewers Minors.
SP Jake Peavy moved from Padres Starting to Padres Minors.
3B Morgan Ensberg moved from Yankees Position to Yankees Bench.
SS Rafael Furcal moved from Dodgers Minors to Dodgers Position.
1B Daryle Ward moved from Cubs Position to Cubs Minors.
C Mike Piazza moved from Free Agent to No Team.
RP Dontrelle Willis moved from Tigers Minors to Tigers Relief.
3B Shea Hillenbrand moved from Free Agent to No Team.
1B Ryan Klesko moved from Free Agent to No Team.