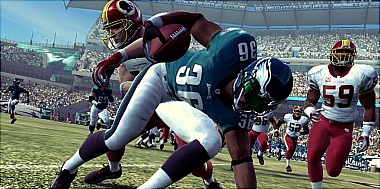 Madden 09 producer Ian Cummings has a new in-depth discussion going on over at Operation Sports which you can check out here. He started it off by displaying some highlights and lowlights of the game's tackling engine.
Among what is mentioned is how the community has directly led to the improvement of gang tackling for this year, that there will continue to be no more than two players making up a gang tackle, and why motion capture has been shown to be more beneficial than the NaturalMotion tackles in the game. A follow-up video may be posted on Wednesday displaying what has been adjusted since this particular video was produced.
While it is great to have this level of dialogue and input it certainly would be natural to wonder about these developments. Given the confidence and apparent level of improvement that is said to have been made in such a short period of time (less than a day) why has the gang tackling been so slow to progress?
Overall the "good" tackles looked really natural while the "poor" ones were all too familiar for anyone who has played the game the last two years. Continue on to watch the video in high quality.