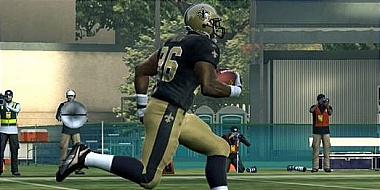 Something that has been taken note of over the past few days is the immediate response to community suggestions. Things like toning down the camera flashes, adding a kick return play with a single returner back, making the weather affect play more, and turning off the passing icons when a QB drops back too far all appear as though they may be acted upon for Madden 09 despite the time constraints.
One topic that has been discussed not only lately, but over the past few years has been uniform inaccuracies. This year they made it a point to improve in that area, bypassing the official style guides supplied by the NFL and going off of video and pictures of what the teams wore last year. When screenshots started coming out fans still noticed some things were off. The Cowboys helmet star was too big, the Chiefs were missing their AFL patch and the numbers were on jersey shoulders not the sleeves, the Steelers had single digit numbers off to the side of the stripe on their helmet instead of on the stripe, and the Ravens and 49ers needed black shoes. That was just the first batch of feedback EA received.
Matt Read, a designer for Madden, has posted up a blog detailing some of the fixes that were made based on community feedback. Click here to check out the blog and corresponding screenshots displaying the corrected uniforms.