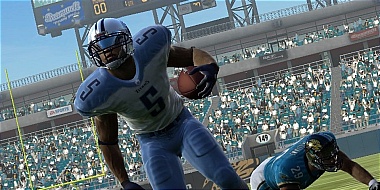 Since the NCAA Football 09 demo came out early many have wondered when the one for Madden 09 would be arriving. While nothing is certain yet they are working towards having one prerelease though it would be more along the lines of a week before unlike NCAA's month before.
Interestingly it appears that EA Sports and 7-Eleven have teamed up for a Madden promotion. One aspect of that is a demo that can be picked up in-store prior to release of the game.
A first for EA Sports and exclusive to 7-Eleven is an Xbox 360 playable demo DVD of the game available before its Aug. 12 release date. The Madden NFL 09 demo, which also includes 60 minutes of NFL highlights, will be free with the purchase of a Madden Meal deal.
While it doesn't specific a date this will be available it does imply that it will be early August. To be clear this does not explicity state that it will be the only way to get the demo. When they say it's exclusive that could just mean as an in-store pickup while still being available for download on XBL and PSN. I'll look to get some clarification on what this all means today.
Update: I have received confirmation that the demo will be available on XBL and PSN. The exclusive nature which is referred to has only to do with the NFL highlights that are included. As of yet there is no expected date for the demo to arrive.