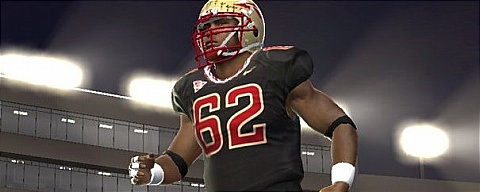 After the overwhelming response of interest in the official NCAA Football 09 online dynasty for the site it was a very difficult process to determine the 11 that were to be selected. It really crushed me to have to select only a handful when so many members of the community wanted to be involved. I appreciate everyone taking the time to post a comment or discuss the dynasty in the forum.
My hope is that even if you were not selected you'll enjoy following along with the updates (both on the site and in the forum). Should a replacement be needed I'll look to the list for who showed interest initially and have have followed the dynasty's progression. I can assure everyone that there will be other activities coming down the line that can encompass larger numbers of participants.
For those who didn't get into the dynasty I wanted to suggest a different NCAA 09 online event that may be of interest. A few years back I came up with the idea of the MNCS which allowed for participants to play as many games as they wanted against anyone else within the event over a period of time. There were rankings and Bowl games included. It was a huge success and has since lived on in variations at MaddenWars (MWCS) and MaddenList (MLCS). Check out the details on the MWCS here and the MLCS here.
With all that in mind continue on to view the finalized 12 members and their teams as well as a poll as to which team you think will finish the year ranked highest.
At least one owner is considered to be tentative and may opt out. Teams can be changed as long as doing so doesn't upset the balance of user controlled teams in conferences. I do really like that as of now the dynasty will be comprised primarily of non-powerhouse teams. For those selected please check into this forum thread to leave your information and discuss different aspects of the dynasty. Thanks!
Pastapadre: Oklahoma State (Big 12)
Jerkfacefave: Iowa State (Big 12)
Rush23 representing MaddenList.com: Illinois (Big 10)
MannyBeltre: Penn State (Big 10)
Callmetaternuts: Indiana (Big 10)
Nix: Arizona State (Pac 10)
Terrorblaze: UCLA (Pac 10)
Cocobee: Florida State (ACC) Notre Dame (IND)
AzureEffect: Clemson (ACC)
AJayJay: South Florida (Big East)
Knight1029: Rutgers (Big East)
RevealingStorm: Buffalo (Mid-American) Florida State (ACC)
{democracy:31}