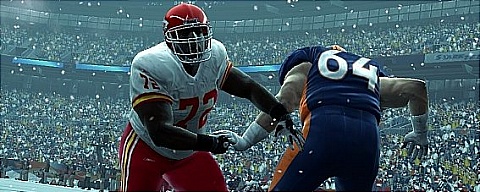 EA Sports has released details on the full soundtrack that will be featured in Madden 09. Previously only The Offspring, Shinedown, and Rev Theory's songs were known but now all 26 can be found in the complete listing.
The highlights of the Madden NFL 09 soundtrack include genre-bending collaborations by Busta Rhymes featuring Linkin Park and Young Dre, The Truth featuring Good Charlotte, as well as returning Madden NFL hit makers Franz Ferdinand, Gym Class Heroes (both with pre-album prerelease tracks), All American Rejects, Shinedown, Senses Fail, Disturbed, The Offspring and Airbourne. The soundtrack's trend of introducing emerging artists continues with 12 new acts that include The Fashion, Kardinal Offishall featuring Lindo P, In Flames, Innerpartysystem, Hollywood Undead, Mindless Self Indulgence, Izza Kizza, Trivium, Kovas and Tyga.
Continue on to read the full track listing.
Airbourne: Stand Up For Rock 'N Roll
Busta Rhymes feat. Linkin Park: We Made It
Disturbed: Inside The Fire
Franz Ferdinand: Lucid Dreams
From First To Last: Worlds Away
Gym Class Heroes: I'm Home
Hollywood Undead: Undead
In Flames: The Mirror's Truth
Innerpartysystem: Don't Stop
Izza Kizza: Millionaire
K'NAAN: ABC's
Kardinal Offishall feat. Lindo P: Burnt
Kidz In The Hall: Blackout
KOVAS: Wax On, Wax Off
Mindless Self Indulgence: Never Wanted To Dance
Rev Theory: Hey Yeah
Senses Fail: Wolves At The Door
Shinedown: Devour
The All-American Rejects: The Real World (Demo)
The Fashion: Like Knives
The Offspring: Hammerhead
Trivium: Into The Mouth Of…We March
Tyga: Diamond Life
Underoath: Desperate Times, Desperate Measures
Wale feat. Southeast Slim: Breakdown
Young Dre The Truth feat. Good Charlotte: Workin'