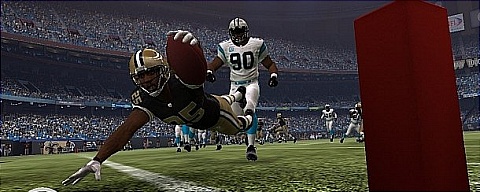 The demo for Madden 09 will hit XBL and PSN on Friday August 1st. If you just can't wait until August 1st the same demo (only for the Xbox 360) is available with the purchase of an NFL DVD that releases tomorrow the 22nd.
This will not be a typical demo. Instead of traditional gameplay with reduced quarter length it will feature time in the virtual trainer and then head into one of the "Madden Moments", this one from the Super Bowl. Only the offensive team will be controlled (in this case the Giants seem likely). Commentary has been excluded due to demo size limitations.
The Madden NFL 09 Demo showcases some of the new and exciting features in Madden NFL 09. The demo begins with the user being loaded into the all new Virtual Trainer to begin the Madden Test. The Madden Test is a Madden aptitude test of sorts, that is used to assess your Madden IQ, which drives the users custom difficulty and play settings. The Madden Test consists of 4 core game play mechanics: Passing, Rushing, Pass Defense, and Rush Defense. Gamers will be taken through the entirety of the Madden test and then given their final Madden IQ.

Once the Madden Test is completed and with the your Madden IQ decided, gamers are then brought into yet another all new feature, Madden Moments. Madden Moments allows for users to replay a team's key moment from the 2007 season. Upon entry into this mode, you'll see a brief overview of the moment, which is the Giants final Super Bowl-winning drive. With about 2 minutes to go, you will take over the reins of Eli and the Giants and begin their march to victory. Once the moment has been completed, users will be allowed to restart the moment as many times as they want.