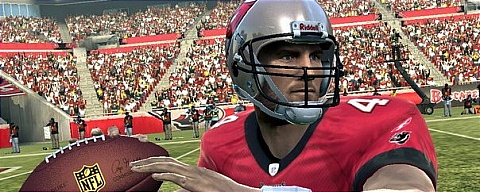 In a curious development the official Madden 09 website is displaying an image of currently retired but likely soon to be active cover athlete Brett Favre in a Tampa Bay Buccaneers uniform. As of this afternoon the Favre image has replaced the Clinton Portis screenshot that had been there for quite some time.
Whether this is an indication that EA may know of an imminent development in the Brett Favre saga is not certain, but it is possible that they do have inside information and this screenshot has slipped out on accident. At the very least it shows that they are preparing for different scenarios. Regardless of what team Favre ends up on they'll likely have screenshots such as this one ready to go when the news breaks. A special edition cover seems like a possibility as the packaging for the initial run of the game has already been completed.
Update: The Favre screenshot has since been pulled from the site where now Braylon Edwards is featured. I did manage to save the full screenshot before it was removed. Now it is clear that this went live on the site in error. Whether it has any meaning other than being a prepared screen in case he is traded to the Bucs I suppose we won't know until there is news one way or the other on the Favre situation.