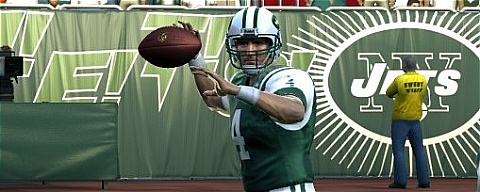 It's now official…Brett Favre has been traded to the New York Jets. For the first time ever a cover athlete will be playing for a different team than the one represented on the game. What does it mean for Madden 09?
While a roster update is already out that had moved Favre to the backup slot for the Packers, another one is expected by the official release date. Favre will certainly be the starter on the Jets by the time people pick up the game. I'd fully expect to see downloadable Brett Favre covers on the EA website soon. I even believe there is a possibility they'll release a new edition of Madden 09 with a Favre-Jets cover sometime in the future. This is a unique opportunity that EA will surely look to take advantage of.
For those interested, Chris Littman at FirstCuts has a 360 and PS3 cover using the Favre-Jets screenshot above here.
How much will Favre help the Jets in Madden? Can the Jets contend in the AFC? Leave your thoughts in the comments.