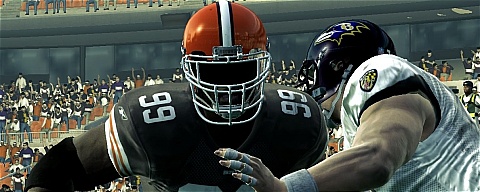 While I stated I wasn't going to have time to post any more full games I was able to get a few shorter videos up. I had these posted in the forum yesterday and you may have seen one or two as the featured video. But with midnight release nearing I figure it would be worth posting them up here as well.
Two of the videos show a few minutes from Superstar mode. One is controlling Raiders RB Darren McFadden and the other as Eagles WR DeSean Jackson. Then there are two different Madden Moments. The Raiders @ Broncos in overtime and the Browns @ Ravens late in the 4th. After uploading the Browns-Ravens one it occurred to me that people may think that it was way too easy to complete that, but it actually took me about 15 attempts to win it on the one play.
Continue on to watch all four of the videos.

–