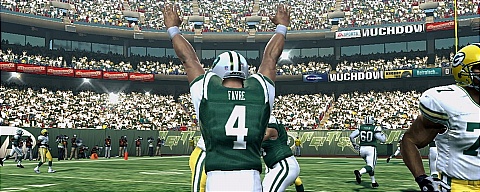 Madden 09 has made its way out and with that brings an end to the prerelease coverage of the game. I still have plans to complete full online impressions, a look at fantasy football importing into Madden (which looks like it has been fixed), an EASW video highlight contest, and the setting up of the custom team online competition to look forward to in the near future. Otherwise I'll be directing my immediate focus towards NFL Head Coach 09 which I'll have later today.
As always I'll be curious to see how the masses receive the game. I suspect for the head-to-head crowd it will be considered very good, while those who heavily invest in CPU offline play or online play will have mixed feelings. As I stated in my random thoughts write-up it is a huge jump forward in gameplay and presentation but the overall experience feels somewhat empty as it doesn't have a feature or mode that can compare to NCAA Football 09's Online Dynasty or the Online Team Play of several other EA titles.
Here are links from the prerelease coverage. Feel free to leave your impressions of Madden 09 in the comments!
Random Thoughts on Madden 09
Roster Update Details
Online League Impressions
Full Game of Madden 09: Seahawks @ Chiefs
Full Game of Madden 09: Bengals @ Colts
Full Game of Madden 09: Texans @ Titans
Full Game of Madden 09: Bills @ Jets
A Few More Videos (Madden Moments, Superstar Mode)
Community Event Impressions
Live Blog from Community Event