One of the new aspects to using EA Sports Fantasy Football this year is the ability to import your fantasy teams in Madden 09. While I initially had an issue getting the process to work EA was able to fix it so now there shouldn't be any trouble uploading the rosters to the locker where the game will grab it from. Anyone with an EA Fantasy Football team can seamlessly transfer them into Madden (PS3, 360) to use in play now, dynasty, or unranked online games.
I set up a fantasy league to test this out containing a total of four owners (thanks to those from the forum that helped out by signing into it) and an auto-draft that would take place immediately. That will explain the stacked roster that I had. In general just from browsing the fantasy football website it looks like it is shaping up really well as a service.
The first thing that is needed is a roster for your fantasy football team. Following the draft you'll be able to take that roster into Madden. When you want to do the import go to the main page of the fantasy site where there is a button to click to "Upload a Roster to Madden 09".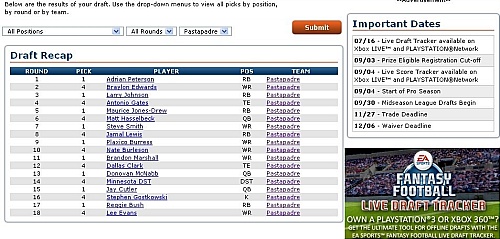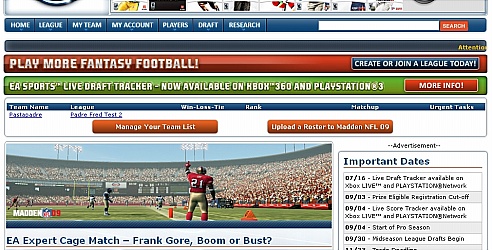 This is where they have changed things now. You'll choose the team of which the roster you want uploaded will come from, enter in your gamertag or PSN name, and then the password used to login to the fantasy sports account. It was not this clear or simple previously. Once doing that hopefully you'll get a message that tells you it has successfully uploaded.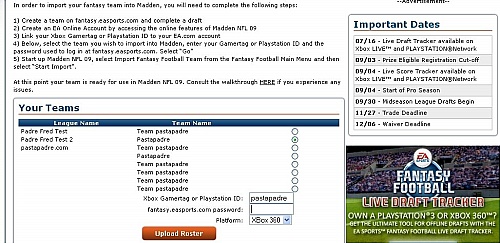 Now in Madden 09 you'll go to the EA Sports Fantasy Football section of the menu and choose to import a team.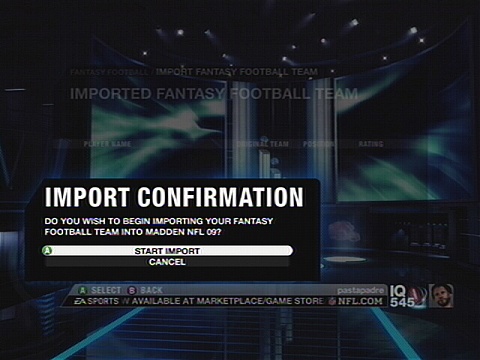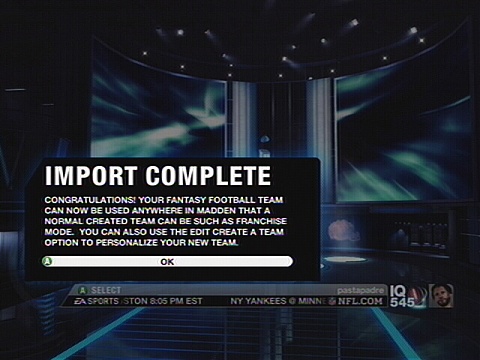 After the team is in you can go to the new "Edit Created Team" area of the menu and change the team name, colors, logo, jerseys, and stadium. Do not edit the team type as it will erase the roster. It will automatically be on custom since you are bringing in the roster.
I noticed that the depth chart will automatically be sorted by the highest rated players. So while my team drafted Matt Hasselbeck as the first quarterback, since he is rated one point lower than Donovan McNabb it was McNabb that was the default starter and the offensive line was tied into.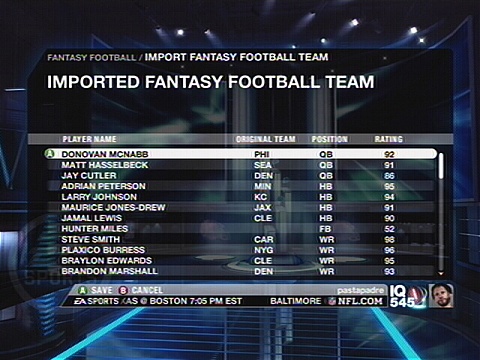 Offensive line: You receive the offensive line from the team that your highest rated QB plays for.
Defense: You receive the entire defense of your highest rated team defense. If you have a league with individual defensive players you'll receive them.
Fullback: You receive a very low rated created player (mine was 53).
Punter: You receive a very low rated created player (mine was 53) unless your fantasy league has punters.
Injuries will not be accounted for in Madden. So if you have a top rated player on IR they'll be available to play with on your team. The import will take up to 40 players from your FF team. In my example I had a team consisting of 18.
For those people who have multiple fantasy teams you're able to transfer more than just one to Madden. If you make a trade in your league and want that reflected in the game you can either just edit the team manually or import the new roster.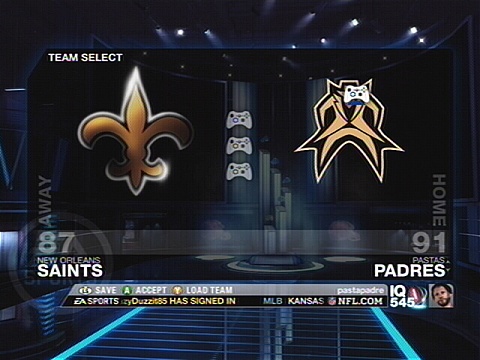 As with last year there are no names on the back of jerseys. This makes it difficult (especially in online play) to identify who is who. While they've done this to control the player name editing from being abused online, considering they're unranked games set up with the intention of playing with custom teams (the two people likely know each other on some level) I don't really feel that should be necessary.
Overall this is a pretty neat option to have available that makes it really easy to get your roster set up on a created team in Madden. I'm not sure that it would be the deciding factor in what fantasy service I used, but along with the live stat tracker on the console adds to the unique features that only the EA Sports Fantasy Football service can offer.