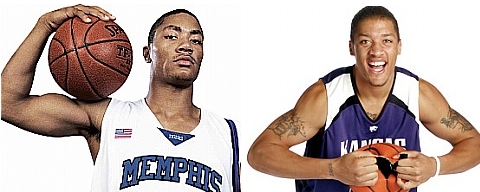 NCAA Basketball 09 has been kept under wraps by EA Sports for quite a while now. For most titles at the very least some basic information would be known three months out from release. Sooner rather than later the first details are going to break which will likely include the cover athlete.
Like last year there are two players that stand out from the crowd. With the 09 titles it was Kevin Durant (March Madness) and Greg Oden (College Hoops) that were no-brainers. But the history of the college basketball games has not always been to select the top drafted players for the cover. It seems likely to happen this year though as EA doesn't have a competitor seeking a cover deal of their own.
Derek Rose was drafted #1 by the Chicago Bulls and would probably have the edge over #2 pick of the Miami Heat Michael Beasley. Really though it is a toss-up. Both are marketable players with bright futures on teams in strong media markets. Rose though did get more exposure by leading Memphis to the National Championship game last year.
The possibility of a surprise cover also can't be discounted. Having no competition opens up the potential to do something unique with it such as pushing a feature or concept (think Desmond Howard on NCAA Football 06).
So who do you think and/or want to be on the cover of NCAA Basketball 09? Vote in the poll below and be sure to leave your thoughts in the comments.
{democracy:38}