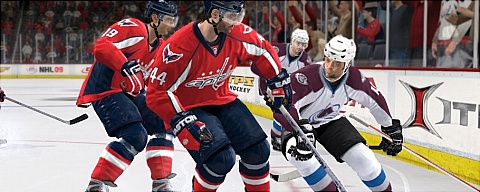 The demo for NHL 09 will be available on the PS3 later today next Thursday (generally PSN updates occur around 3pm PT). The Xbox 360 won't be receiving the demo until sometime in early September.
The demo includes a Stanley Cup rematch of the Pittsburgh Penguins and Detroit Red Wings played through the perspective of an individual player in Be a Pro mode as well as being able to play the game the standard way.
The new Be A Pro career mode will put you in the skates of an up and coming superstar. Start in the AHL and work your way up to the NHL, with the ultimate goal of becoming an NHL legend. The new Performance Tracker will rate your play in over 60 categories so you will know exactly what parts of your game you need to improve. NHL 09 will also introduce the evolution of online team play – the EA SPORTS Hockey League. Take your created player online and join a team with friends, or scout for players. Featuring 6 vs. 6 online play and the ability to level up your player – you can become the first great name in video game hockey.
Be sure to leave your thoughts on the demo in the comments.
Update: EA has informed me that there was some miscommunication with Sony and the demo will not be out until next Thursday. However the NFL Head Coach 09 demo is up.