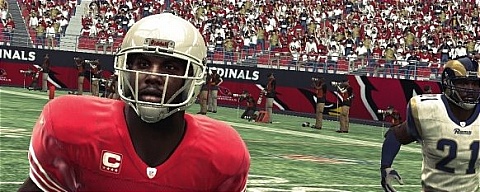 In general the last thing I'd want to do is bring attention to a glitch that could ruin the enjoyment of the game for people. Currently Madden 09 online play has been riddled with people using the WR direct snap glitch. Inexplicably SportsGamer had detailed exactly how this glitch is done. While it had already spread though some circles now that a media site has decided to publicize it this will only been seen more.
Here is a warning though to anyone tempted by that. Those who use the glitch online risk getting their record and stats completely wiped clean. EA is able to monitor each play that is run in a game and can even tell if it was snapped to a wide receiver. As this glitch is isolated to a single play in a single playbook it becomes even easier to spot. They've already deleted the record and stats of some users who were confirmed to have utilized the glitch. More will face that realization in the near future and deservedly so.
I was able to confirm a while back that the next patch will include a fix for this glitch. So it is only a matter of time before it is gone. I felt though at this time that it was important to put the word out on the upcoming fix as well as the reasons you don't want to exploit it online even if you know how to do it.